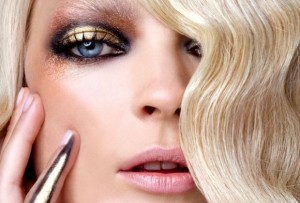 Since now, your eye make-up may appear to be extremely easy, pretty and fast to apply. Would not you like to believe it? With eye shadows from Clinique, All About Shadow 8 – Pan, everything is possible.
New eye shadows from Clinique hold promise of being incredibly interesting. All About Shadow 8 – Pan Palette provides endless variations of eye make-up creation and this concerns both day-to-day make-up and the evening one as well. The shades of the product were selected in such a manner, to enable you performing not only the classic smoky eye style but also more extravagant one, for example, the one worn during carnival parties. How do Clinique palettes look like? Each one of these, and there are five of them in total, comprises of eight shades, matching in terms of color scheme. To clarify, Sahara Sand palette includes beige and brown shadows. Kawaii Rose are the purple and pink colors. Green shades and blue ones can be found in Rainforest Green palette. London Fog is characterized by bright blue, brown and violet shades. Parisian Bleu, in turn, comprises only of variety of blue shadows. In general, each palette includes also a special, a fairly bright shadow, the aim of which is to highlight make-up and optically open the eyes. Additionally, there is yet another shade provided, this time the dark one, to be applied on the outer corners of the eyes enabling smoky eye make-up finish. Crucial information, Clinique eye shadows are famous for being long-lasting and crease-resistant. By the same token, the eye shadows mix with each other perfectly and there is no need to touch up our make-up as a day goes by.
One thing that has to be admitted, All About Shadow 8 – Pan Palettes are made with a precision, since these present simply elegant. Generally speaking, these are packed in small, colorful, cardboard boxes. The lid of a palette reminds a mirror. After opening, we can see the real mirror and an applicator provided. The applicator itself is ended with a make-up sponge and a make-up brush. Due to the compact size of the pallets, these can be easily put into a purse to be used outside.