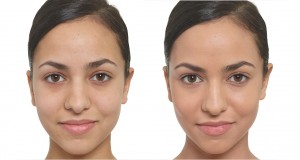 CC cream from Clinique is closed in a fairly typical design of this cosmetic brand – a greenish tube with a silver cap. This tube contains 40 ml of the cosmetic. Superdefense CC Cream is available in three shades: Light, Light Medium i Medium. Unfortunately, it might be rather difficult to pick the right shade. This task may be problematic, especially for those women, having yellow skin pigmentation or slightly olive-like colour of complexion. Obviously, it is a pity because CC creams are designed to even skin tone.
Which properties are characteristic for Superdefense cream from Clinique? First of all, the product contains fairly high sun-screen SPF 30. This provides us with protection from the excessive solar radiation. Consequently, the cream safeguards our complexion against hyper-pigmentation, wrinkles and even against skin cancer. What is more, Superdefense CC Cream gives imperfections coverage, which ranges from light to medium insensitivity. For that very reason, women struggling with sizable discolorations, freckles, scars or other skin defects, are not going to be greatly satisfied with the cosmetic's manner of working. In other words, the product form Clinique only slightly covers the imperfections and equalizes skin tone, which is why, it can be used to apply natural make up, also known as make up no-makeup.
Another feature, CC cream Superdefense from Clinique is destined for all-skin types care. Dermatologist-tested as well as optician-tested, containing neither fragrance nor oily substances can be applied by people having sensitive and allergic complexion.
While talking about the application, how to perform it with Superdefense CC Cream from Clinique? Generally, the cosmetic is to be applied on clean and dry skin. It can be used both as a make up base or as a single product, on the whole face or only on those parts requiring camouflage. Basically, while putting CC cream on a make up foundation, we are going to obtain stronger coverage.