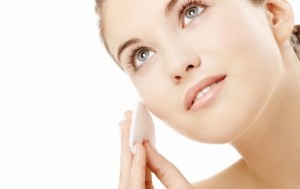 It is no surprise, make-up removal is fairly essential part of evening skin care. By performing it, we cleanse our face skin from sebum, dust, sweat and make-up residues. In such a way, we enable our skin to breathe and regenerate itself. Certainly, only purified skin is able to take the advantage of a moisturizing cream, a face mask or a toner afterwards. Remember, it is not recommend to sleep with the make-up put on our face. Unfortunately, many women make this critical error regularly, and upon their own request, they jeopardize the face skin for acne formation or allergic reaction occurrence.
What should be used to remove make-up completely? Basically, the best products, would be delicate cosmetics which succeed in make-up removal without irritating our skin at the same time. The consistency of such products should match the particular skin type. To clarify, people having combination or oily skin type, ought not to use oily creams or lotions because the usage of such cosmetics can lead to even greater sebum production and, as a consequence, acne and blackheads formation. When it comes to sensitive and dry skin type, these should be treated with special micellar lotions, produced on the basis of aqueous solutions. However, this kind of products cannot be used to eye skin area make-up removal since these can cause dryness, redness and smartness.
Garnier Express 2in1 eye make-up remover, dual-phase lotion.
Garnier cosmetic helps with fast eye make-up removal. Basically, it deletes all types of make-up, even the waterproof one, from the eyes. What is more, due to arginine included into the composition, the lotion has the power of nourishing eyelashes. Indeed, arginine strengthens eyelashes both from the inside and outside, it smooths and makes the little hair of ours slightly shiny. Another important feature, the cosmetic supports eyelash growth processes. According to the producer, the product is gentle for eyes and does not irritate.
How to apply Garnier make-up remover lotion? Generally speaking, dual-action lotions are the best cosmetics for eye make-up removal. These products combines two features. Firstly, these are able to remove a waterproof mascara or eyeliner. For such an action responsible is the first layer, the oily and dense one. Secondly, dual-action lotions moisturize, tone and ease all skin discomforts. These features are provided by the lighter layer of the product. Before every usage, the bottle needs to be shaken to enable the layers to mix. Next, a cotton pad should be soaked with Garnier product in order to initiate delicate eye make-up removal. It is advisable to start the process from the outer corner of the eye, heading toward the inner one. The eyelashes have to be cleansed accordingly to their growth direction. It is also advisable, to push gently the cotton pad towards eyes and hold for a while in order to let the make up melt.