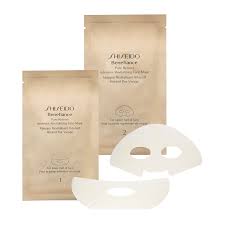 Shiseido has launched its Pure Retinol Express Smoothing Eye Mask from BENEFIANCE WrinkleResist24 collection. This eye mask regenerates complexion and fosters cell renewal of epidermis. This kind of working is possible due to retinol included into the composition of the product. What is this ingredient? In fact, you may not know what retinol is, although, you are definitely familiar with A vitamin concept, aren't you? Generally, these two terms are different in nomenclature, whereas, these define the very same substance. Normally, it is a fat soluble element that influences hair, nails and skin condition. A vitamin, is also known as youth vitamin since it delays aging processes of skin, reduces wrinkles and is responsible for new cell formation. What is more, fairy often, this vitamin is used in acne medical treatment. Basically, medicine takes also benefit from this substance during treating dermal diseases caused by the solar radiation (mainly by UVA and UVB radiation.) Moreover, A vitamin occurs in a form of numerous chemical compounds, such as, retinoic acid, beta-carotene and retinal. The most interesting component of Shiseido mask, retinol, is of the following properties: enhances skin texture, smooths complexion, reduces dead skin cells, eliminates signs of photo-ageing, regenerates epidermis, improves skin moisturization, brightens up discolorations, accelerates wound healing processes, regulates the work of sebaceous glands, purifies skin pores, evens skin tone, smooths wrinkles as well as shapes and improves the contour of the face.
Pure Retinol eye mask from Shiseido takes care of face skin, especially the area of eyes and mouth. It provides moisturization and regeneration, matt finish and young appearance. Due to including plant substances and amino acids, the eye mask contributes to elastine production and improves the general tension of collagen fibers.
How to apply Shiseido Pure Retinol eye mask? The package includes two mask's parts soaked with active substances. The product is to be applied twice or three times per week. Obviously, before the application, one has to prepare their face skin for Shiseido treatment, for example, by putting on a purifying cosmetic or a face scrub of one's choice. Coming back to the soaked parts, the bigger parts are to be applied on eye skin area, and the smaller ones on the mouth area. After 15 minutes the mask is to be taken of, and the remaining emulsion must me massaged onto face skin.